The Herd

Our herd is comprised of all registered purebred French Alpine does, almost all from Munchin Hill stock.  We currently have 14 mature does, 3 doelings and two bucklings.  We are expecting about 30 kids for the 2018 kidding season but plan to keep only two or three doelings and maybe one or two bucklings.  We're taking orders for doe kids, buck kids as well as meat wethers.  Call or email me for a chart of availability and prices.  All but the few we will be keeping, need to be off the farm by early to mid March.  I need the milk for cheesemaking and just don't have the resources needed to raise that many babies well.  We test annually and our herd has always tested negative for CAE, Johne's disease and brucellosis. The goats are on a herbal worming program and we use antibiotics only as absolutely necessary.  The girls are fed high protein hays – alfalfa, orchard grass/clover, and oat hay, a mixed whole grain ration during milkings, and free choice goat minerals and Icelandic Kelp as a supplement.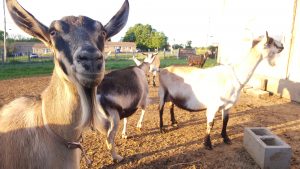 Munchin' Hill Lilly is one of our foundation does.  She has been a steady contributor to the herd and faithfully gives us three babies each year.  She is our "stealth" freshener having her kids when we have been watching her non stop and take a quick break to run into the house to get a drink of water.  A solid milker, Lilly is the namesake for our Chevre cheese – Lilly's Chevre. Lilly was dry for the 2016 season and at age 14 we thought she deserved the season off, but she clearly missed being in the line up so we will breed her and see what takes for the comings season.

Behrmann Farm Patience is one of the top milk producers at Suave Groundhog Farm.  A Po daughter, she puts everything into producing milk and seems happy to do so.  She has such a sweet laid back personality, and loves to be scratched and loved on – which she gets lots of around here! Patience was dry during the 2017 season so we are waiting to see if she settles for the coming season.
Roeburn's KVLW Anya – Anya is another top producer.  She was also dry for the 2017 season, but was the first doe to cycle into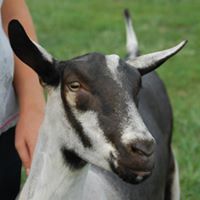 heat this season and we are hopeful she has settled and will be back in the milking lineup for 2018.
Rainbow Colors Shanghi surprised us with quads this past year and boy did she produce the milk!  I struggled to keep her in good flesh but she is looking good now and is bred to Rhet Butler for a late February freshening.
Munchin Hill Carte Blanch is a sweet calm doe happy who steadily milks 14 or so pounds of sweet milk day after day.  Healthy, happy and a joy to have in the herd.  She is Dam to Cadillac – another wonderful producer who inherited her mother's calm sweet disposition
Munchin' Hill Alouette and Munchin Hill Polly Vue joined us late 2013 and are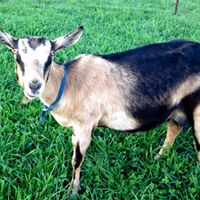 both lovely additions to our herd.  Polly Vue is an Alouette daughter.  Sweet personalities and the picture of health.  Polly Vue has been bred to Rhet Butler and Alouette to Triumph for late February Freshenings.  
Mona Lisa, a beautiful tall, feminine doe out of Alouette is probably the prettiest doe in the herd.  Bred to Triumph for a early March freshening we can't to see how this doe matures!
Munchin' Hill Passion found her way to Suave Groundhog farm with many stops along the way.  She reportedly had a tough life but was nursed back to health at Lapaysanne Farm and is a powerful doe. She is the dam to Rhet Butler and Scarlett O'hara from the 2017 kidding season and Dam to our young milker Juliette.  At 9 she remains strong and in beautiful condition.  Such a lovely member of our herd.  She has been bred to Triumph for a mid February freshening date.

Diamond is a large full bodied doe out of Penny, another Po (Munchin Hill Appropo) daughter who has really grown into her frame and is a solid milker from freshening right up until dry off time.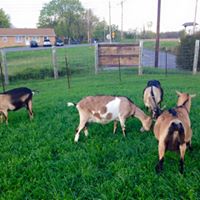 Snickers is a real beautiful doe carrying on the Munchin Hill Kava line.  Daughter to Kona – she is elegant and strong.  Having freshened with only a single this year her milk production was down a bit, but we are waiting to see how she freshens for the coming season.
Juliette, one of Passion's daughters is one of the younger beauties in our herd.  Udder very high and tightly attached, this doe catches your eye in the show ring or pasture.  A strong willingness to produce, she is a great addition to the herd.
Licorice is a solid black doe.  The last retained offspring of Kona – a Kava daughter, she was our only yearly retained from last year.  Tall with lots of energy and vitality, she is playful and mischievous.
We have three doelings from 2017 kid crop we have retained.  Passion's doe Scarlet O'hara, Mona Lisa's doe, Victoria and Polly Vue's daughter, Sandpiper.  We will delay breeding for these three until November, but all are lovely does and we look forward to seeing how they mature.
After freshening we will assess strengths of all the does and make some milkers available for sale in order to keep our milking herd at 12 or 13 for the coming 2018 production season.