After transplanting to the east coast from Southern California in 2001 in search of a simple, honest community for our family, our journey into sustainable agriculture began. We were wanting to find ways to be more self sufficient and thought, "wouldn't it be fun to get a goat!". We soon learned that goats are herd animals, (you can't have just one), so we purchased our first two goats in 2003 to produce fresh milk for our own consumption. Of course they must have babies before they start producing milk, and so our small herd of two soon became four.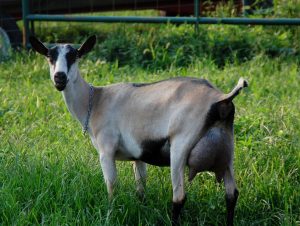 By the time we had five milkers, and were producing more milk than we could drink, my oldest daughter, Megan suggested, "Lets learn how to make cheese!". We visited a friend who taught us how to make "lemon cheese" – a kind of ricotta, and soon were making other simple cheeses in our kitchen. For Christmas that year we gifted Megan with a three day workshop in Massachusetts with experienced cheese maker Jim Wallace and were on our way to launching Shepherd's Whey Creamery.
In the spring of 2012 we received our Grade A certification and Food Manufacturing permit and introduced our first cheeses at the farmers' market in nearby Charles Town, WV. We started that first market with with Lilly's Chevre – the foundation cheese named after one of our first two dairy does,  as well as feta, and three varieties of Queso Fresco all crafted with milk from our small herd of 12 French Alpine Dairy goats.  Quite the simple lineup.

As Suzanne, the head "fromager", developed both her technique and artistry of cheese making; attending cheese workshops and through trial and error, we have developed our cheese repertoire. When a mistaken shipment resulted in a tub of ash, Suzanne did a google search and saw the beautiful, pyramid shaped cheese, Valencay. With no recipe, she guessed at the make process and birthed our own variation of this delicacy now known as
Napoleon's Peak. With prize money from a first place finish in the "Made in West Virginia" contest she attended a course with Peter Dixon in Vermont that helped inform the crafting of our Classic Camembert. The hard cheese lineup has gown over the years too, with our latest cheese Alpsiago – our only Alpine style cheese, wowing our market customers!
Since the first local market in May of 2012 we have continued to grow our customer base serving markets around the eastern panhandle, northern VA, Maryland and Washington DC as well as a number of local shops, restaurants, and caterers. Our products include a line up of fresh, soft ripened and now 6 kinds of hard aged cheese, Goatgurt (our version of Goat milk Yogurt), Smoothies, and a goat milk caramel: Cajeta.  We also bottle fresh Goat Milk for sale within WV only.